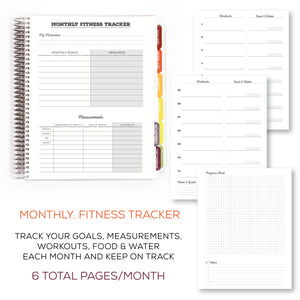 Fitness Tracker Add-On
The Fitness Tracker makes getting and staying healthy a snap!  The tracker includes motivation and goal-setting section, room to record before and after information, plenty of space to document every workout, meal, and your water intake, AND a handy progress chart to visualize your successes.  The Fitness Tracker pages will be bound into each month of your planner, so they are easy to find all year long!
Please note, due to the number of pages, we can only include two add-ons in each planner.